Sometimes, the only way to describe the aftermath of a cosmetic treatment is WTF!
Such is the case with Amanda Coats' eyebrow feathering appointment. Eyebrow feathering, which according to NewBeauty is pretty much the same thing as microblading, looks to make your brows look naturally thicker–but poor Amanda's appointment went terribly wrong.
Coats recently visited a skincare clinic in Point Cook, Australia, but after contracting an infection as a result of the treatment, she has taken to Facebook.
Coats' eyebrows and the skin surrounding them fell off.
Check out what she had to say on Facebook: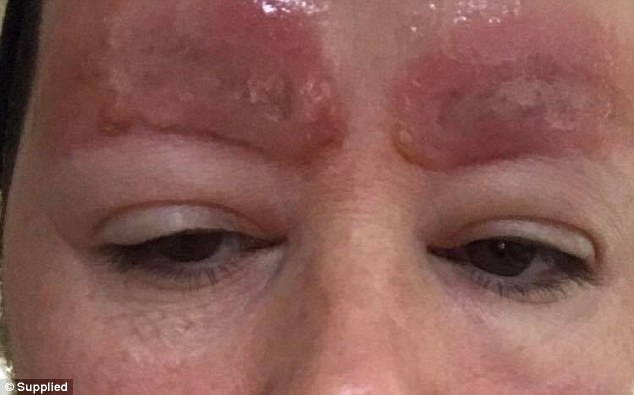 "I went to get my eyebrows feather tattooed to enhance them. I ended up with a severe infection from the clinic and the skin was just falling away and my eyes blew up.
The lady who did it, Ulzii Cleveland, was very rushed, going in and out of the room attending to other clients during my procedure and also doing another eyebrow tattoo at the same time—she did not put new gloves on each time which does not keep things sterile.
I messaged and called Ulzii Cleveland to tell her straight away something was wrong only to be ignored. I told her patches of skin had come away along with the color that I had puss and my eyes are weeping. I went to the doctors and have had to go to the doctors nearly every second day. I'm on antibiotics and steroids for swelling. I've also had to use antibiotic ointment. I have to constantly dress the wounds. The cost of all this is now greater then what I paid for the procedure."