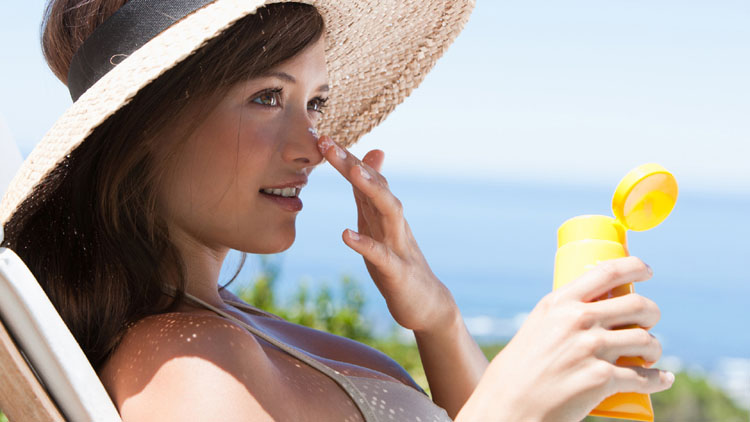 If you've ever visited the beach in the middle of summer, you know how much of a life-saver sunscreen is.
But broad-spectrum sunscreen doesn't just counter a bad sunburn, it literally saves lives, fending off UVA and UVB rays to prevent skin cancer.
Unfortunately, cases of melanoma–the deadliest type of skin cancer–are increasing in females between the ages of 15 and 30 at a higher rate than their male counterparts.
Here are a few tips to best protect yourself under the sun.
SPF-30
SPF-15 is a popular choice for most people. But if you're going to be outside for more than an hour, you are going to need to invest in at least SPF-30–or sometimes higher!
Steven Q. Wang, M.D., the director of dermatology at the Memorial Sloan Kettering Cancer Center, explained that SPF 15 only blocks 93 percent of the sun's rays. That's compared to 97 percent by SPF-30.
Double Trouble
The recommended amount of sunscreen is at least one ounce.
If you aren't in the business of weighing fluid ounces, just double up the application on your skin.
Look For the Seal
There are a lot of brands of sunscreen on the shelves. And almost half of those don't even meet the SPF level stated on the bottle.
Dermatologist Elizabeth Hale, M.D. has an easy suggestion.
She says, only buy the products with the Skin Cancer Foundation Seal of Recommendation.
That seal also guarantees that the product is water-resistant.
Clothing
It may seem obvious but there is another shield that you can use in addition to sunscreen: Your clothes.
Where sunscreen only lasts a few hours, your clothes isn't going anywhere until you decide to take it off.
Dr. Hale advises dark, tight-fitting clothes over light, loose garments.
Don't Throw Shade
Hanging out under a beach umbrella isn't going to protect you from much.
In fact, you have a lower chance for severe sunburn wearing sunscreen directly under the sun than you do in the shade without any product, per JAMA Dermatology.
Light rays are still sneaking up on you via reflection from sand, water, or pavement.
Application Frequency
Sunscreen in the morning won't protect you all day. It probably won't last you more than two hours.
Don't be shy about reapplying, especially around water. There is a big difference between "water-resistant" and waterproof.
Go ahead and reapply after taking a dip or even breaking a good sweat.
Hooman Khorasani, M.D., chief of the division of dermatologic and cosmetic surgery at the Icahn School of Medicine at Mount Sinai in New York, says, "the frequency with which you put on sunscreen is the most important thing you can do to stay protected."